What does it mean to add a clasp 'professionally'?
In that little taster video, I've just shown you a broad range of different types of necklace and bracelet project, with different clasps. So, how do you know which one is right for your project? How do you know the best way to add it?
I learned these lesson the hard way: it's easy enough to add a clasp to your bracelet or necklace. But choosing the right clasp and adding it to give a professional finish is a different matter.
So, what do we mean by a professional finish?
For me, this breaks down into three parts:
using the best clasp for the project (eg, a particular kind of clasp may be better for a bracelet than a necklace)
attaching the clasp so that it looks good
attaching the clasp so that it will last a long time
So, on this course, we're going to look at each of those three elements.
Getting started
I'm going to start by giving you some ideas and resources that will help you get to know the different clasps available. Plus, I'll show you how to think about which is going to be right for your project.
Then, I'm going to show you some different methods for attaching clasps so they look good and will stand the test of time.
Now, you may be completely new to beading. So, if that's the case, you probably don't even know what clasps are available, never mind how to start attaching them. That's a good place to be, because you can learn some great tips and avoid some common mistakes right now.
On the other hand, you may have made a few projects and had difficulty attaching the clasps. So, you will know something, but maybe you're just looking for better ways to add your clasp. If that's the case, you might find some of the material in this course is familiar, but it's never a bad thing to revise what you know!
So, let's start by finding out how much you know right now.
Take a look at the photo below and then answer the quiz questions underneath...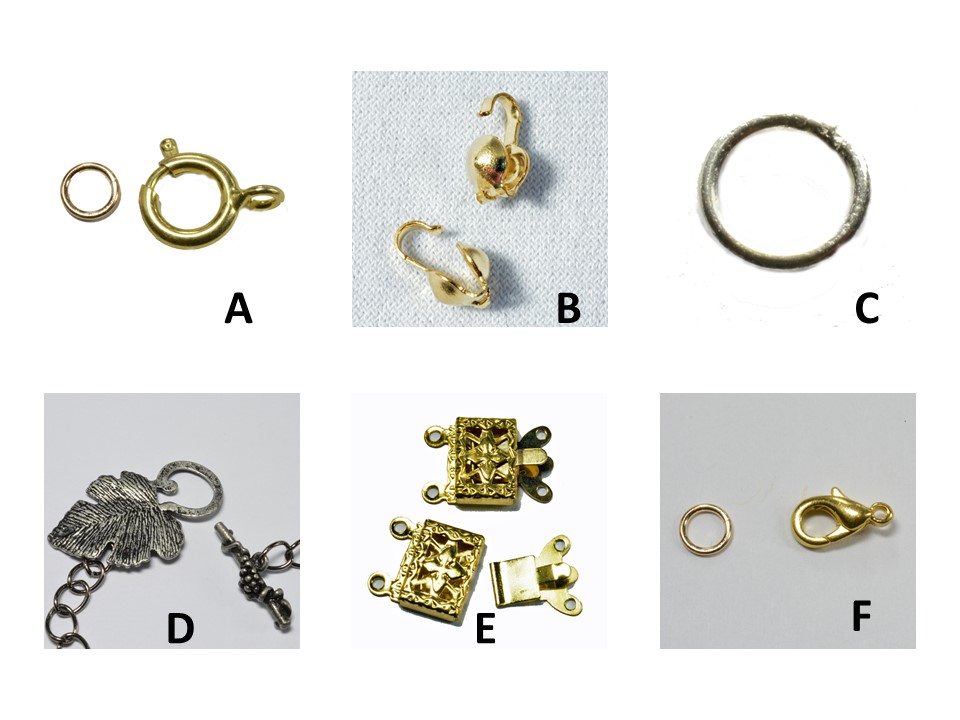 So, how did you do?
Don't worry if that all went very badly! As you progress through the course, you're going to be learning what all these types of findings are and how to use them to create beautiful, long-lasting bead-weaving projects.
So, let's get started. Click on 'Complete and Continue' to move on to the next section.
Complete and Continue