Introduction
In this section, I'm going to show you some techniques you can use for adding different types of clasp. These will cover options for wide cuff-style bracelets or chokers, and narrow rope-style designs.
So, when you make your project, you are going to want to think about which kind of clasp is appropriate. Then, choose the best of these techniques for attaching it.
In most cases, you will have options. So, just remember, there isn't a single 'right' answer. Probably all the options are viable. So, think about which will suit the style of your project and the recipient of your jewellery.
Also, remember to experiment with some different techniques. You may find some you prefer, but all are good to know.
Inspiration
So, before we get going, let's take another look at some of the projects you saw in the video at the beginning. I want to explain why I chose the clasps and techniques I did.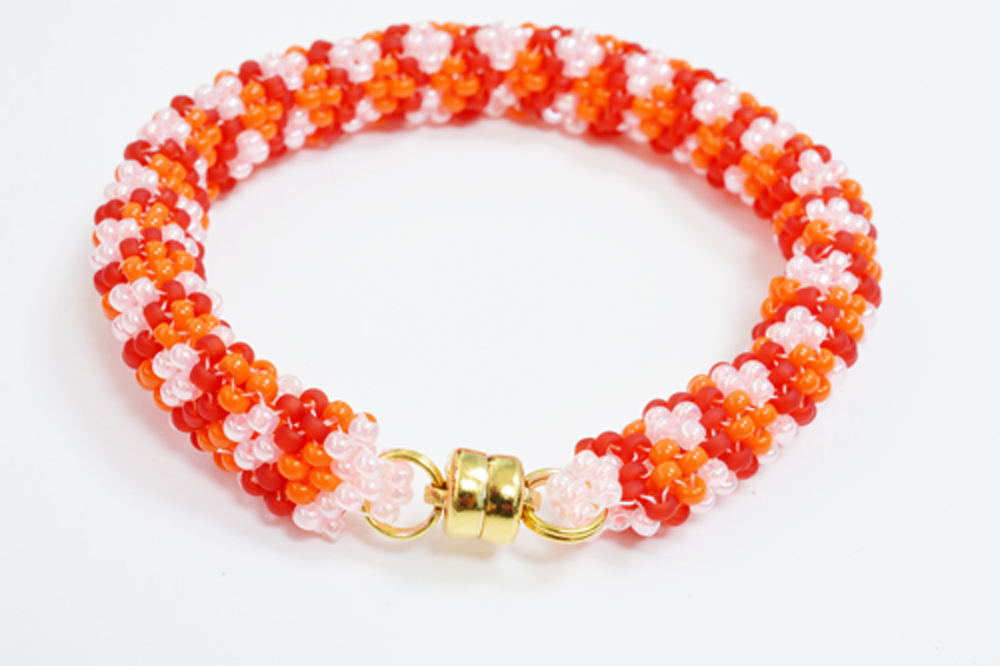 This is a simple bracelet. So, it needs a clasp that is easy to fasten and also secure. I felt this magnetic clasp fitted the bill. It is also a simple style that sits well with the beads.
However, these magnetic clasps can wear through thread over time. So, I never stitch them directly onto the jewellery. I will use a ring to attach to the magnetic clasp, then find a way to attach the ring to the jewellery.
In this case, I created a strand of beads to loop through the ring. This blends in seamlessly with the bead-woven tube bracelet.
But, in the sample below, I elected to use French wire to strengthen and cover my thread. Then, I just stitched the rings straight onto my jewellery.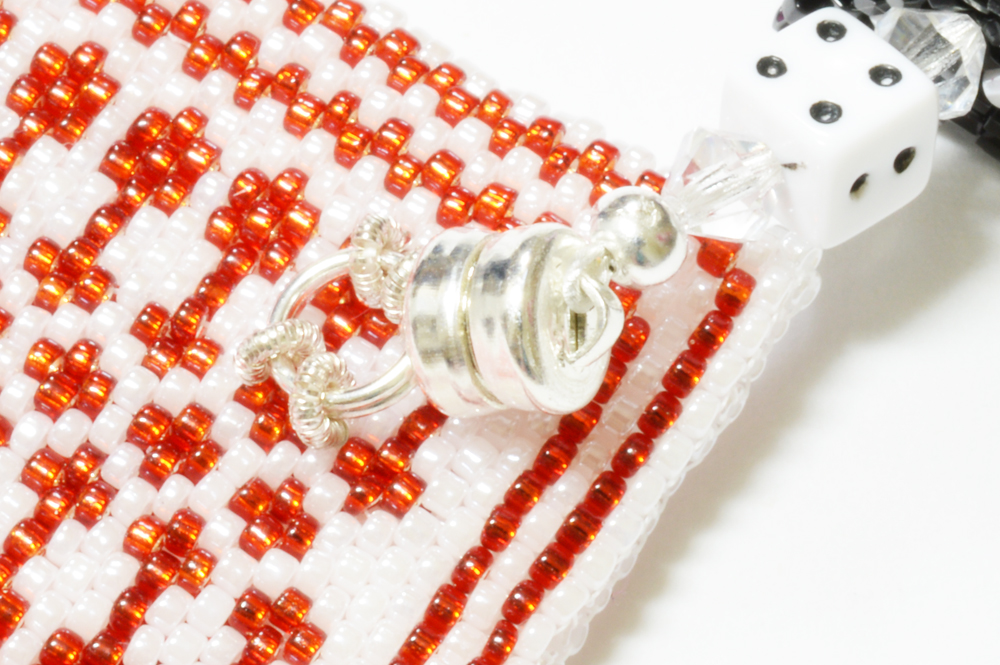 When I am making necklaces, I have a few more options for clasp types. So, I often use hook and eye clasps as they are easy to fasten, but will remain secured by the weight of the necklace.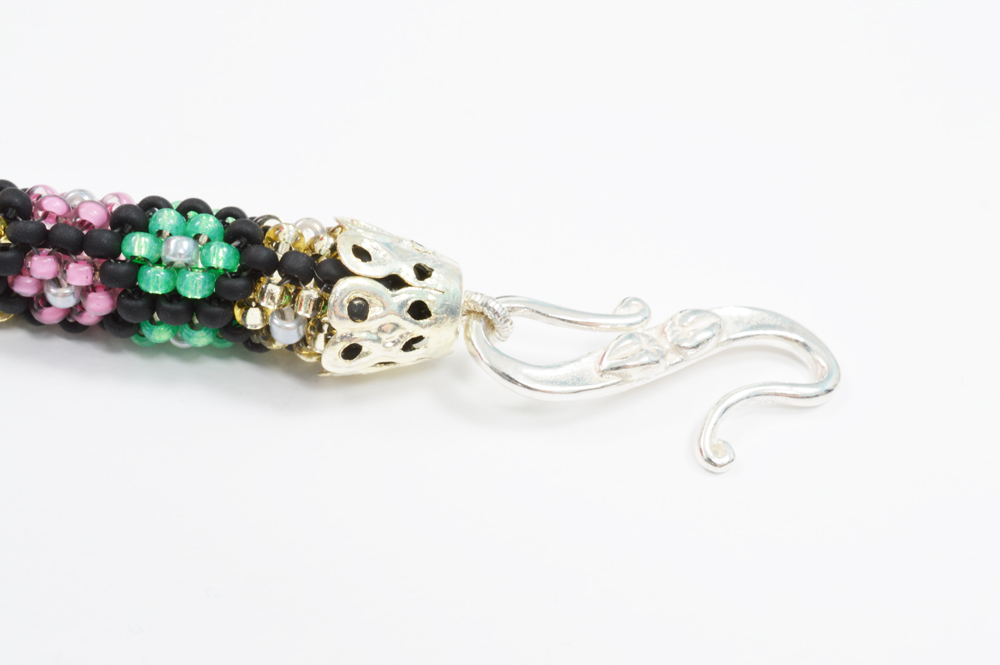 In the example above, I just used French wire to strengthen and conceal my thread and stitched straight through the clasp ring.
Because I was making a beaded tube, I needed to decrease the tube ends. So, I added an end cap to disguise the decrease section and give an attractive finish.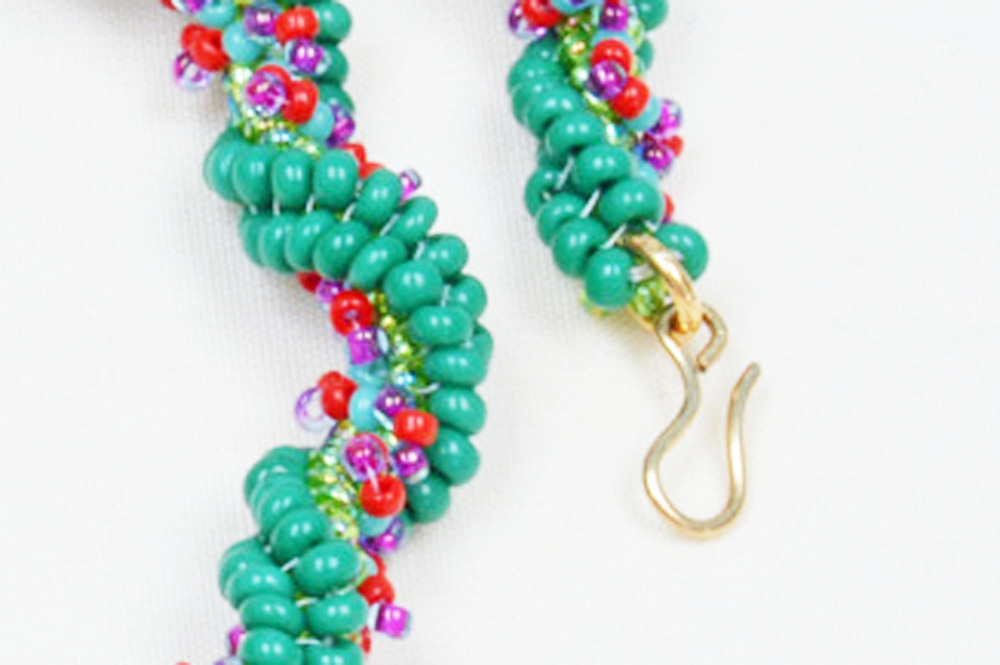 In this example, I was able to open and close the ring on my clasp. So, I wove a closed ring into the end of my beaded rope. I could then attach the clasp direct to that. If I ever want to change the clasp in future, I can just remove this one and add another in its place.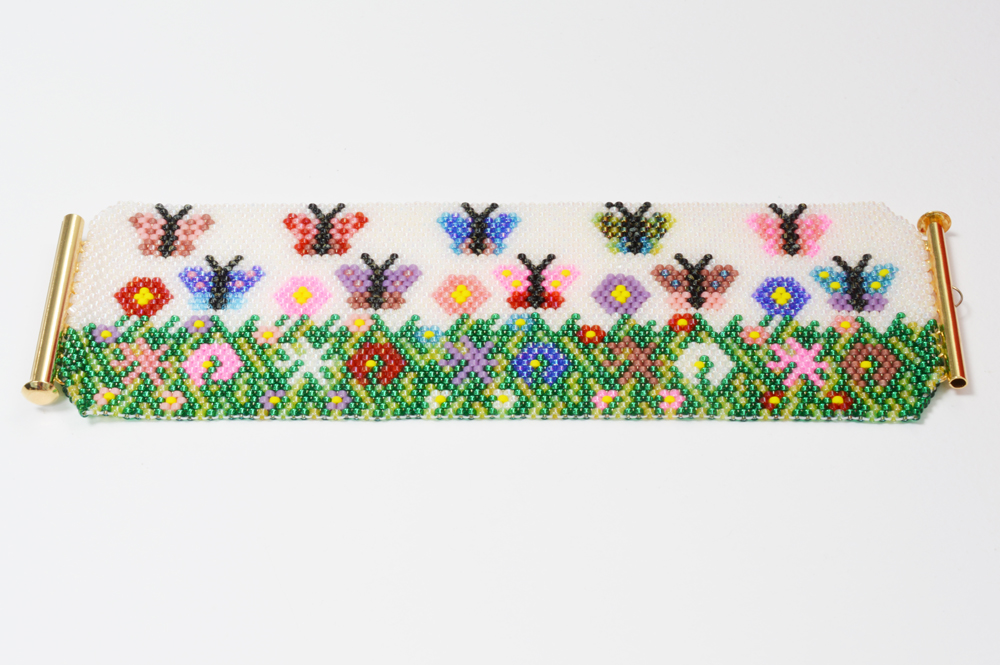 For a wide, cuff-style bracelet, or a wide necklace, you might want a wider clasp. So, then slide clasps (like the one you see in the bracelet above) or box clasps are a good option.
In the case of the bracelet you see, my slide clasp was a little narrower than the cuff. So, I shaped the ends of the bracelet to fit the clasp.
You have various options for attaching slide clasps. So, we'll be looking at several different examples as we progress.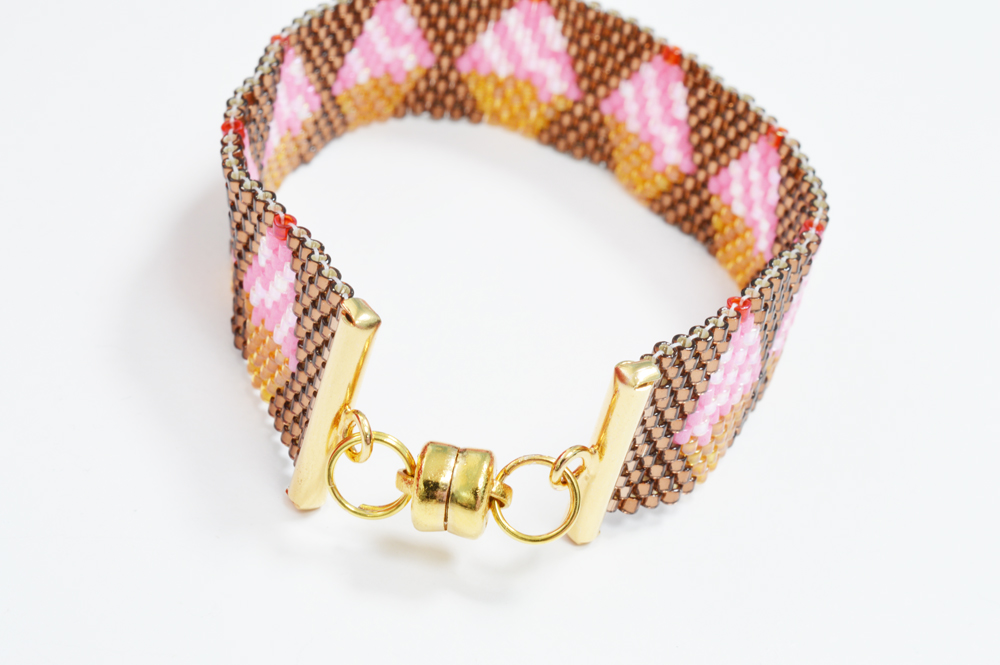 Now, if you decide you still need a magnetic clasp on a bracelet, but your bracelet is wide, what can you do?
Well, in the sample above, I used Toobs to give a neat finish to the edge of the bracelet. Then, you have a single ring to which you can attach a narrow clasp.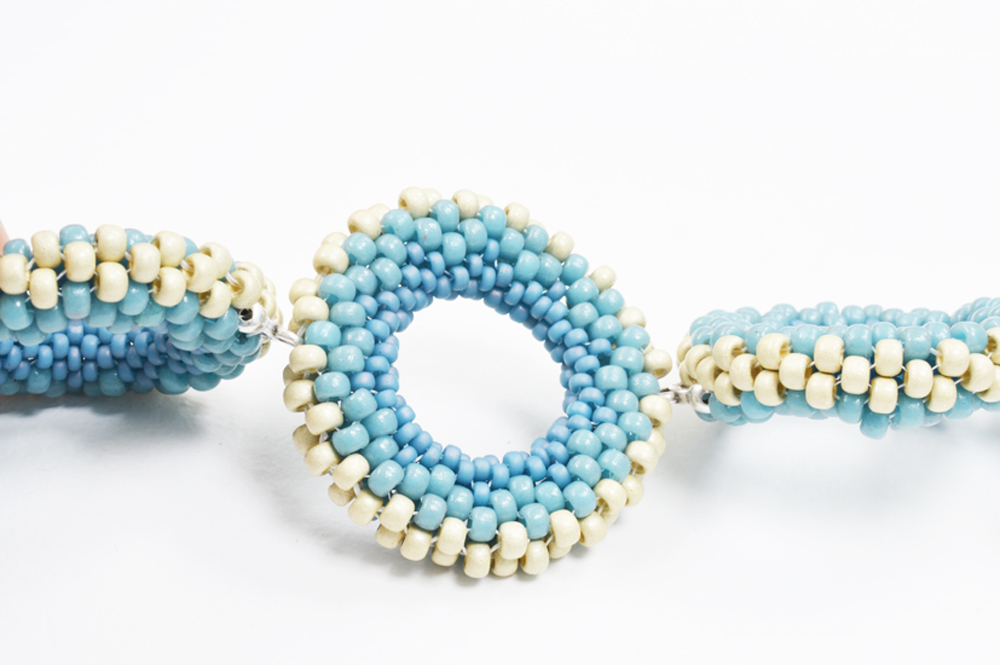 Talking of specialist findings, we also now have a full range of metal findings to end or join bead-woven pieces: the Cymbal Elements. These have been designed to fit precisely with certain beads. So, they are simple to use and give a great finish.
Then, you might just forget about buying a clasp, in favour of making your own. So, I'll talk briefly at the end about beaded clasps.
So, as you can see, you have an absolute wealth of options available. Hopefully this little gallery has helped you to think about which techniques might be most helpful for you to start learning first.
Now, if you're ready, click on 'complete and continue' and you can move on to the techniques. You might want to start by reading through all of them. Then, you can come back and try learning whichever you feel you need. So, this section is one that you'll want to dip in and out of over time.
Complete and Continue