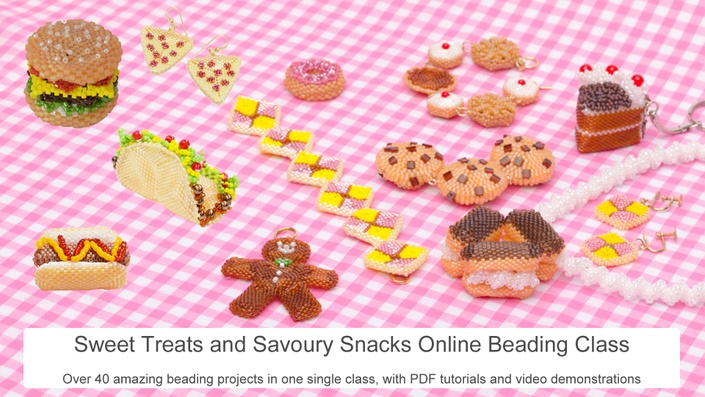 Sweet Treats and Savoury Snacks Online Beading Class
What do you get in this class?
The 15 original designs from Sweet Treats book, plus four additional "recipe card" projects - all as downloadable PDF tutorials (worth $32)
8 more designs for 'sweet' projects - downloadable PDF tutorials (worth $50)
6 projects to make savoury snacks - downloadable PDF tutorials (worth $38)
3 projects to make beaded fruit - downloadable PDF tutorials (worth $18)
5 projects to make beaded boxes with a 'sweet' theme - downloadable PDF tutorials (worth $32)
3 BRAND NEW dimensional beading tutorials to celebrate International Beading Week 2022 (worth $36)
Almost 3 hours of video tutorials demonstrating the techniques (worth $104)
That would be $300 worth of beading tutorials if I were selling these items separately! But, in this class you get them for just one price... $49.95*
International Beading Week 2022 Early Bird Offers

Now, as I explained in the video (above), this amazing bundle of beading treats is here to celebrate International Beading Week 2022. And, as 2022 marks TWO 10-year anniversaries for me, I've put this class together to celebrate that milestone as well.
(In case you missed it, 2022 is my tenth anniversary of working full-time as a beading designer, and it also marks the tenth anniversary of the publication of my first beading book, Sweet Treats.)
So, during beading week, I will be launching THREE brand new projects in this class. They won't be available until then, but you can enrol on the class today and enjoy the projects that are already inside, PLUS get two very special offers...
An even further discount, so you pay just $39.95* today.
A free copy of Sweet Treats book mailed to you, wherever you live in the world. (But you will need to be quick - I only have a limited number of books left, so they will be sent to the first people that join the class...if you leave it too long, you might miss out on that!)
This special offer is only valid until 22nd July 2022. On that day, I will be putting the price up to $44.95*. Then, at the end of International Beading Week (31st July 2022), the class will go up to its full price of $49.95*.
Whenever you join, you will still have life-time** access to everything in this class, and you will still be able to work through the materials in your own time at your own pace.
So, if you would like to see more details about the exact projects you will have available, please scroll down through the course curriculum below (you will need to click on the arrow at the bottom, to expand the full curriculum). And you will see that you can preview some of the sections for free, now. These will give you a chance to view the quality of the technique videos, and also see the full details of the projects you could be making.
*Depending on your location, Teachable may apply an additional sales tax on top of this price - the tax is levied by your local government and goes straight to them not to me.
**Life-time is defined as the life-time of this beading school (and I have no plans to close it!).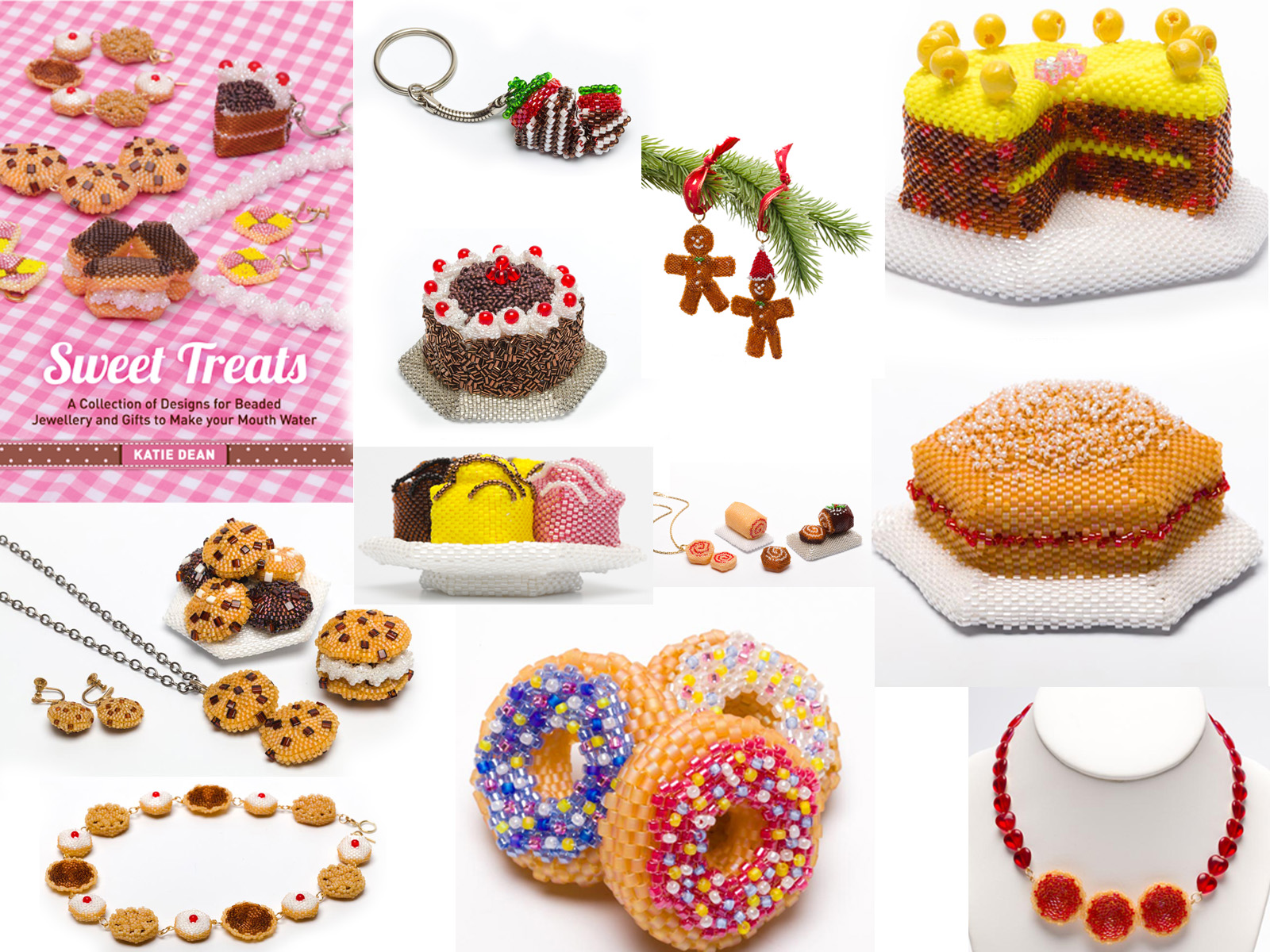 How does the class work?
Once you are enrolled, you get immediate access to the projects that have been released so far (new projects will be released during International Beading Week at the end of July 2022).
You can work through all the materials in your own time, at your own pace.
The PDF tutorials can all be downloaded to save to your device, or print out and use. You will need to be logged in to the class to view the video demonstrations.
You can view this material as often as you wish, work through it in any order, and come back to the class at any time. So, this is very much something that you can enjoy over your entire beading life.
What techniques do the projects use?
Most of these projects are made in Peyote stitch. A couple also include some brick stitch and some Herringbone techniques. All the techniques are demonstrated on video, though, so if they are new to you, you have everything you need to learn them.
What materials will I need?
Most of these projects are made using Delica beads or basic seed beads. A couple use shaped seed beads for elements of embellishment. Two of the beaded boxes are made with Superduos, and a couple of projects use Peanut beads to create texture.
All of these beads are readily available in any good bead store.
You will also need beading thread, and, for some projects, you may need some stuffing (scraps of tissue, bubble wrap, or toy stuffing all work well).
What level of skill are these projects?

They vary. So, you will find some projects in here that are great for beginners, plenty for intermediate level, and some advanced level. This is ideal for building your personal skills and confidence.
So, even if you do not yet have the skills for all of these projects, the combination of tutorials and videos will teach you everything you need to know. And this will be a brilliant class for learning, developing your confidence and growing as a beader!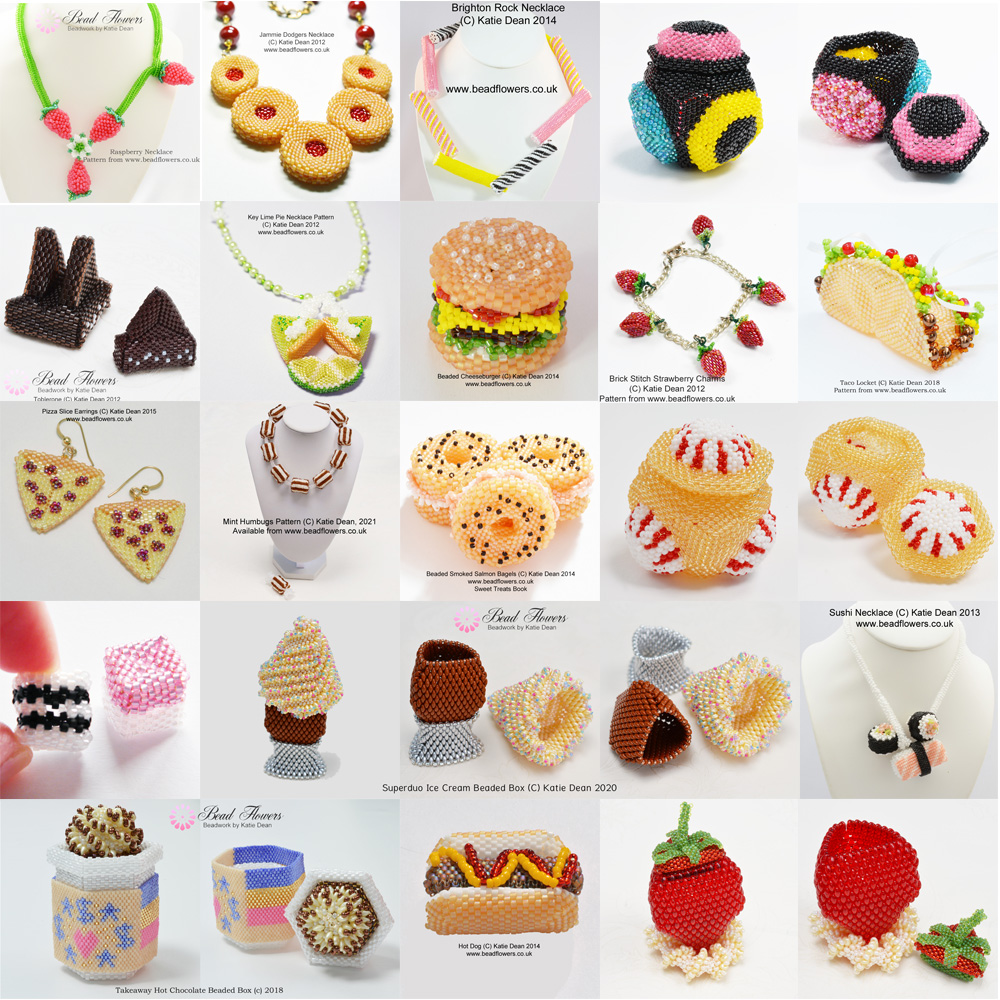 Your Beading Tutor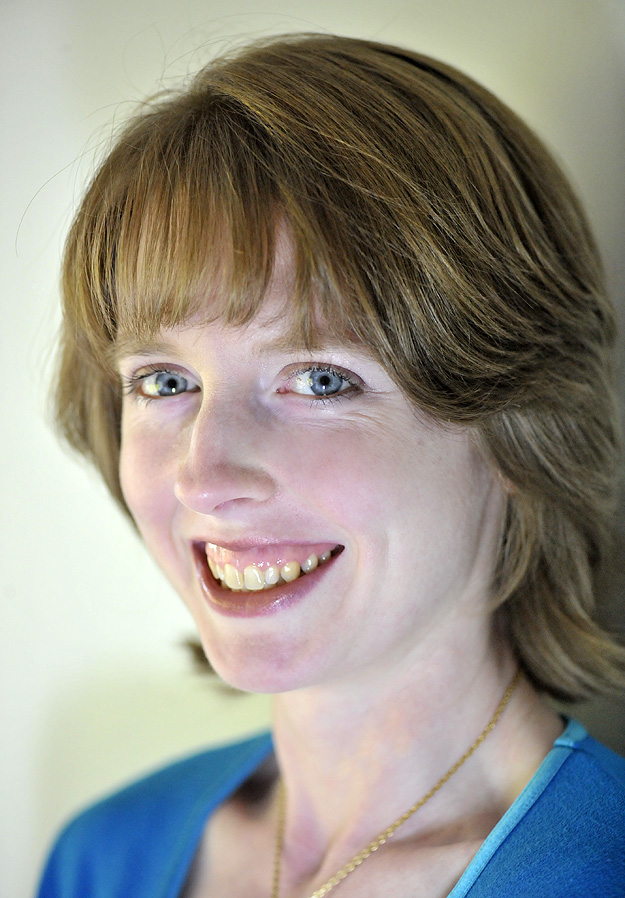 Hi! I'm Katie and I'm here to help you become a better beader. Now, no matter whether you've just started out or you've been beading for a while, you probably come across things you don't understand or can't do.
So, that's where I come in. I've been beading since 2003. I was self-taught originally, so I'm pretty sure that whatever 'pain point' you're currently experiencing, it's something I've also faced and overcome. Which means I understand your frustration, but I can also help you to find a way through it.
My own beading experience covers a multitude of different techniques (beadweaving, French beading, bead embroidery and more!). I've published books, patterns in magazines, I even edited a beading magazine for 3 years! And I'm a qualified teacher.
All of that is very nice, but it's not what drives me. I am passionate about beading, in all its forms, and I want others to share that passion. So, my dream is to help more people, like you, to get the most out of their beading. That's why I set up the 'Become a Better Beader' group and why I started publishing beading courses. I've developed the courses specifically to address the things that people tell me they are struggling with. So, if there's something you find difficult, let me know about it.
You can also access hundreds of free informational blogs about beading and join the 'Better Beader' group at www.myworldofbeads.com.
Frequently Asked Questions
When does the course start and finish?
The course starts now and never ends! It is a completely self-paced online course - you decide when you start and when you finish.
How long do I have access to the course?
How does lifetime access sound? After enrolling, you have unlimited access to this course for as long as you like - across any and all devices you own.